Car Wash Equipment for Auto Dealers in Florida
Automatic Car Wash For Dealers
Florida Car Wash Equipment distributor BlueMar CWS is the leading and best auto dealer car wash supplier in Florida. Please find details for all the AUTEC auto dealer car wash and polisher models that we distribute. Click the middle image to view each model's the spec sheet. The videos can be expanded to full screen.
AUTEC car wash equipment is built with all stainless steel construction, stainless steel guide rails, treadle ramps, tire stops, and galvanized track. AUTEC is known for wash quality, trouble-free operation and long-term durability. Additional features include water-based hydraulics with tank heater, quick-release door panels, fore & aft mitters, full or partial mitter retract, on-board or off-board rinse capability. All of AUTEC's systems maintain the quality standards and durability that AUTEC is known for.
Designed for the Auto Dealer
60-second wash
Soft-Touch Car Wash
All Stainless
Handles vehicle fleets
4 Full height Polyflex Foam brushes
600,000+ wash life
Washes Front and Back of vehicles
Employees not needed
Tire and Wheel cleaner available
Rear Super Clean available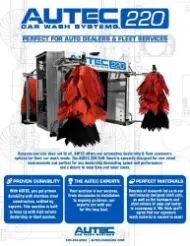 AUTEC Model 220C
Powder Coated Carbon Steel for the value buyer
Soft-Touch car wash
Four full height Polyflex foam brushes
Washes front and back
60 second wash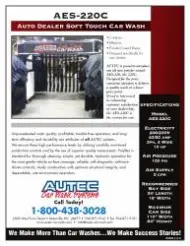 AUTEC Model 100 Polisher
Fleet Polisher
Polisher Program Available
No equipment cost under program
Can be purchased directly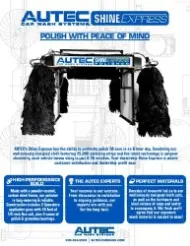 Auto Dealer Car Wash Equipment Photos
Car Wash Equipment Auto Dealers Florida
BlueMar Car Wash Service works with car wash dealers throughout Florida including Orlando, Naples, Miami, Broward, Sarasota / Bradenton, and others.